Money Heist season 4th - 2020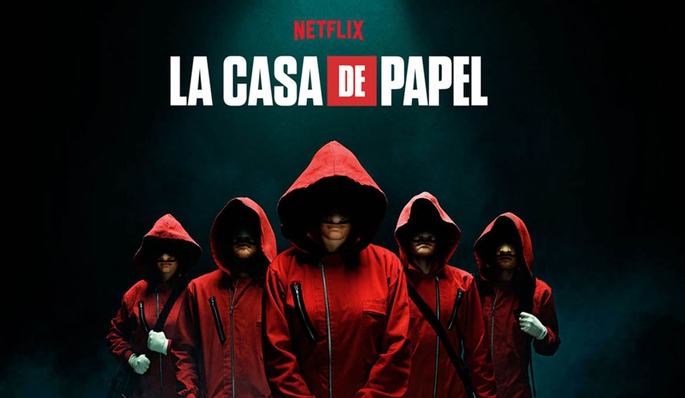 La casa de papel is a Spanish series that has become one of the biggest robbery fictions ever seen.
The series, which has three seasons, deals with the spectacular assault, by a gang of criminals, of the National Mint and Stamp Factory, in the first two installments, and of the Bank of Spain, in the third.
The combination of the genres of action, intrigue and thriller together with its attractive plot and the peculiar character of its characters make it the most successful Spanish series of all time.
Suspense between past and present
The series presents, in the first two installments, two well-differentiated time lines: the present and the past. In the present, we know the execution of the robbery; In the past, we see the planning that the assault had and we know the background of the characters.
Another important element of the series is its soundtrack. This mainly highlights the use of pre-existing music, that is, it integrates musical pieces that have not been composed specifically for the series.
One of the themes that appears at the beginning of the series is, for example, Ludwig van Beethoven's Symphony No. 9. It is curious how music and image converge perfectly when the machine prints large strips of banknotes, an Ode that in this case symbolizes the joy of making money.
But, without a doubt, one of the themes that has become more viral thanks to its inclusion in the series has been the version of Bella ciao, a hymn that was adopted by the partisan resistance movement in Italy.
A fact that shows the importance of television series when it comes to popularizing or returning songs to the collective imagination.
The song is also a symbol of resistance for the gang of robbers but, without a doubt, it is closely related to the background of the characters of Sergio Marquina, The Professor, and his brother Berlin.


Series information :
La casa de papel is a Spanish series produced by the Spanish communication group Atresmedia and the producer Vancouver Media. In 2017 it was broadcast for the first time on the Spanish television channel Antena 3.
Then, in 2018, Netflix buys the broadcasting rights and distributes it to different countries, making it one of the most viewed series on the digital platform.
In 2018, it became the first Spanish fiction series to win an Emmy Award.